Export Crating
Waters International understands the special needs of the global drilling industry. Many of our customers operate in remote areas with little or no infrastructure and unique climatic, environmental and political challenges. Don't hold up your profits. Waters International offers a full array of in-house export crating services to expedite delivery. In-house crating and handling by Waters International personnel experienced in the exigencies of shipping oilfield equipment around the globe go a long way to ensuring your equipment arrives quickly, safely and reliably.
Contact us for more details.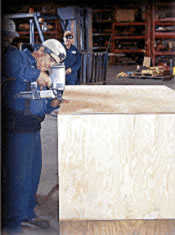 Waters International has sent equipment into every major drilling theater worldwide. We know how to get equipment on site quickly and in ready-to-go condition.