NDT Testing
Waters International Inc.'s procedures are QCB (Quality Certification Bureau) approved in accordance with ISO 9001:2000 for the purchase, re-furbish and re-sale of oilfield equipment. Click here to view certificate.
Waters International can also provide a wide range of NDT testing procedures to both customer specified and internationally recognized standards. These include:
Liquid Penetrant Inspection per API, ASM, ASNT, ASME and ASTM
Dimensional inspection with calibrated instruments and tagged per MIL-STD-120
Mechanical testing when necessary is performed in accordance with ASTM A-370
Metallurgical Testing per API, ASTM, and AISI Standards. Chemical analysis includes laboratory testing usng ASTM E-350 wet analysis method and ASTM E-281 and E-282 spectrographic recommendations and ASTM E-59 sample collection method. Mechanical testing is conducted in accordance with ASTM A-370
Waters uses NDT testing processes such as MPI (magnetic particle inspection) and UT (ultrasound testing) to inspect the load bearing areas of the equipment according to API standard practices for repaired equipment. Handling, hoisting and power tools are subject to both OEM and applicable industry guidelines and practices. For more details, ask for Waters International Procedural Manual.
Contact us for more details.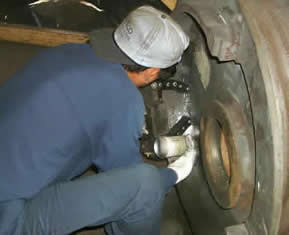 Thorough testing is your assurance of
consistently reliable performance
Magnetic Particle Inspection